When You Feel That No One Gets You.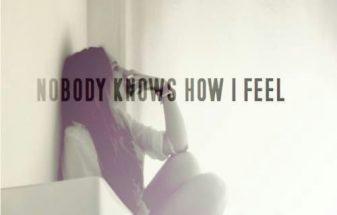 February 24, 2017
Nobody knows how I really feel.
Our deeper mind, and its influence on our daily experience, can be viewed through the lens of time as a series of accumulating memories. These memories unroll like a magic time-traveling carpet whenever we look back at the history of our lives. ~ Bonnie Badenoch
Many of us had loving, caring and warm parents – with a safe and connected childhood and upbringing. And yet, we still touch upon places inside of us where sometimes, there is pain. The pain of not being fully tuned into, listened to, heard, or met. Not necessarily on a talking level. We can't always articulate what we're feeling when we are young.
We just know that sometimes we feel badly – and often we push those feelings away.
We are largely bodily and sensory beings before we begin to define our world, and express our emotions with words.
Sometimes we never learn to define our feelings in words, and they remain unexpressed in us. Those feelings remain in our bodies as numbness, chronic pain and everything in between.
These old feelings sit like clumps of energy in our body until they triggered by a situation or encounter (sometimes in a relationship, often with our partner or other close relationships in our life), that awakens them into expression.
This is our emotional reaction – an awakening of the body from a dormant state.
Once we are triggered, if we act out from that place without awareness, it will take the form of lashing out, withdrawing, confusion, or complaining about something that has little to do with the real feeling content – or what's really going on inside of us.
When triggered emotional energy awakens within you, rather than lashing out, collapsing or withdrawing – tune into yourself, and the energy flowing through your body. You may have touched on that subtle place in yourself where there was the pain of not being "heard".
It's a vague feeling of not being received. It doesn't feel good. It's unsettling and uncomfortable. The quiet despair of distance.
There may be a lot of places inside of you that weren't received by your parents or important people in your life. Someone didn't know how to tune into you and receive you fully. This didn't happen on purpose – but it happened.
This is what we do together. We sit. We talk. We share space and silence. I listen to what's arising in what you are saying and feeling. The whisper or shout of your presence. Into the room. Into your body. Whatever arises.
You will be listened to, held, and fully received as you are. With patience, openness and compassion.
 You may have felt that those around you never quite "got" you – and it hurts.
Don't push it away, bring it closer in and let's make sense of it.
Together, we will foster an empathic inner community, with a brand new sense of being seen, understand and heard.
Just as you are.
love Kim, xoxo.
www.s3p.d51.myftpupload.com / [email protected]
Rediscover your ALIVENESS with The Embodied Well-Being Program for Leaders – A 3-Month 'In-Your Body' Practice for Women.
This program is for women who are ready for a deep dive– willing to make time, and clear space for the deeply penetrating and likely life-changing process that a combination of inner work and embodied practice bring about.
Slow down. Breathe deeply. Move. Nurture and support your heart.
Access an Embodied Awareness Practice to allow you to notice your present moment experience – the act of being present with your whole self – all sensation, emotion and physical experience, allows your energetic aliveness to flourish. The practice of being in your body and noticing what you find there can be calming and grounding.
sign up to download an embodied practice and learn more about sessions, workshops, programs and Healing Through the Body classes here – www.s3p.d51.myftpupload.com 
let's talk about what's happening for you – [email protected]