Bound Up, Suppressed Emotion & Feeling Shut Down or Disconnected in Your Life.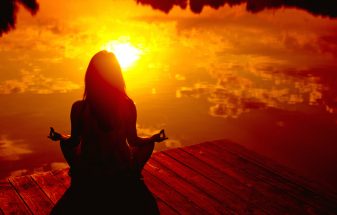 March 21, 2018
Many of our emotional struggles come from conscious or unconscious decisions we've made to close off or shut down parts of ourselves from aliveness or stimulation. Over time, this bound up, suppressed and unexpressed emotional pattern contributes to making us feel anxious, depressed, jittery, stressed or sleepless.

Why did we close off parts of ourselves from life?
We are moving so quickly through life that we haven't given ourselves the time and space to understand our conditioned patterns or feel our bodies, so we often don't realize how numb or disconnected we are until something painful or difficult happens in our lives – and we have no choice but to feel it.
When we are young, love and connection are as important to our survival as food and water – so we repress some of what we feel because we are determined to belong and fit in in our families. We imitate and adapt to our parents attitudes, in order to maintain our requirements for growth and connection. We take in what is nourishing for us, and block out what is not. The conscious and unconscious decisions we make are made within the relational context of our family of origin.
Every compromise we made during this early time in our life, had some necessity or benefit for us, and we must now let go of this pattern in order to become less emotionally blocked or suppressed.
During our sessions, you will begin to notice what you do and do not feel in your body, and begin to feel more alive. Our feelings of stuckness can be opened and awakened with somatic embodied experience, which helps the body become less suppressed or stressed. Your defenses can be understood and released, when working somatically – by stimulating and balancing the body.
Lasting change often requires specific insights into our past in order to touch into and release pockets of bound emotion. We need to fully understand how we've become as we are today, so that we can reverse an earlier, childhood decision, that was made in order to keep ourselves in connection to others.
Together, we will take time to understand your deeply ingrained defensive patterns, tap into the energy of your body to understand your unconscious self, and move beyond current limitations. Engaging in the depths and mystery of yourself – you undertake a path of knowing yourself at a deeper level, to get in touch with a sense of freedom that is already within you.
Our repressed emotion is so tightly embedded in our physical body, that we work with sensations and feelings in the nervous system, as well as emotional and thought patterns. We may have to re-experience some of our buried or rejected past, while remaining in the neutral present moment.
Many of us believe that our pain is something that should always be avoided, so we spend time distracting ourselves in different ways. Any pain that has been pushed away and feels numb now, must hurt as it thaws out and comes back to life.
After some time, rather than identifying with our suffering, we can notice and pay attention to the sensation, feeling and awareness that emerges as pain comes up, is felt and dissolves.
You don't have to hold on to the bound up pain of the past – you can release, let go and surrender to what has happened before, and open yourself to life as is it now, in the present moment.
The more clearly that you begin to experience yourself now, the more you are able to understand that your old attitudes and habits, need only be temporary intrusions into your life. It is possible to feel pain, release it and let new life in.
As we move towards greater understanding of ourselves, our potential is unlimited. As we work towards understanding the depths and mystery of ourselves, we begin to feel better in our bodies, we move through the world more fully and confidently – and our senses and nervous system are more calm and in balance. 
You can meet your own inner experience, here in the moment, with deep acceptance. R
econnect with yourself and experience what is here.
Looking outward into the world to find ways to feel better is one of the many strategies we use to avoid our inner experience. Although it might work for a while, ultimately we will become aware of our painful feelings again.
​​​
If we want to open more fully to our lives as they unfold, we must learn to let go of the bound up energy of the past.
Life is bright – open to a sense of truly living, not merely existing.
In the depths and mystery with you,
love Kim, xoxoxoxoxo
If you feel disconnected from yourself, shut down, overwhelmed or stuck- take a step towards flow in your life. 
Thoughts, emotions, body sensations, relationships – everything can change with compassion, kindness and understanding – Join me for Somatic Transformation Sessions – A Heart-Mind Embodiment Immersion – Cultivating Embodied Well-Being, Presence, and Healing Through the Body for Individuals & Couples. 
Learn the Art of Relating to yourself and within your relationships – through the body – Cultivate body awareness & embodied well-being – in an integrative, body-focused, heart-centered, relational way – whether you're in the Markham/Toronto area or want to work together online.
Don't let your mind talk you out of what is in your heart.
Tune in to the inner guidance of your body and trust yourself.
What are you ready to let go of?
What is ready to burst forward?
What is flowing within you now?
I choose to go out into the world, move through fear and savour every experience.