When You've Lost the Feeling of Connection.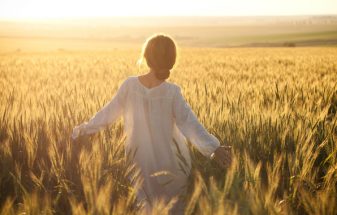 October 24, 2016
"Real intimacy is only possible to the degree that we can be honest about what we are doing and feeling." ~ Joyce Brothers
Intimacy is a state of being where the most inner parts of the self are revealed to another, and to oneself, without pretense or defense. Intimacy involves a state of vulnerability and knowing that is achieved through revelation, quite apart from the roles and obligations that frequently exist in interpersonal relationships.
In an intimate relationship, such revelation and vulnerability are mutual.
When we are born, we are at one with universal life (love) energy. Because we are one with this energy, we have no need to be known by another.
As we grow and develop, we become separated from ourselves through expectations for us to conform and play roles. As we do, we learn to be objects of one another as well as of ourselves. This is a necessary function of socialization. Socialization is the price we pay for the loss of the deepest connection with the universal life/love energy.
The deepest connection with ourselves is then replaced by the act of taking care of one another, which becomes the more familiar meaning of the word 'love'.
As well as losing connection with the universal vibration of oneness and love, the socialized person loses the ability to know themselves. This process of objectifying continues throughout life, and people increasingly lose touch with their deeper nature.
We are longing to connect with our deeper nature – to connect with ourselves. While in a relationship, we have a need to be seen, heard and known. Often, our relationships become enmeshed, and growth can no longer happen.Telling the truth, being honest and demonstrating integrity will allow intimacy to flourish.
Sharing your feelings about what is true for you – rather than suppressing your thoughts, feelings and fears – allows you to be an individual – and is the way that you can achieve true emotional intimacy.
For most of us, we do the opposite in our relationships – we hold our truth inside for fear of what will happen. While we're doing this, our relationship begins to feel more and more disconnected over time. This is the cycle of disconnection inside a relationship.
We are born emotional intimate and truthful, but we learn how NOT to be this way from our families and other relationships over our lives. When we are truthful and open with each other, we move beyond enmeshment and control of our partner. When we are enmeshed with each other, we block the possibility of growth within our relationships.
Resonance is frequently lost through blaming, denying, controlling, expecting, taking care of one another, withholding, pleasing, and judging. These are all some of the means of defending against the threat of intimacy.
Alone and Separate
Our existential condition is to be alone and separate. One person can never truly know another – individuals can only know their experience of the other.
There is always separation.
Intimacy involves acknowledging and accepting this existential separateness with others, and understanding the relatedness that we share with others all around us. Togetherness comes with sharing aloneness.
Many people seek to be in relationships to overcome a root anxiety that we feel as human beings. Many of us are looking for someone to take care of us and fulfill a need for someone else to fulfill their internal emptiness.
Often, we want to control our partner or own our partner as a possession to calm ourselves from this existential fear.
The illusion of security and control work against our ability to be intimate. We lose our feelings of connection because we become confused about what love and connection truly are. As long as we are invested in controlling our experience of our objectified partners, our capacity for intimacy and loving will be limited.
As individuals, partners and couples, we can come back to our divine connection with our universal life and love energy and begin to understand together what it means to be truly loving, connected and intimate.
I work with individuals and couples to help them come back to the universal energy of love that exists within us and around us.
We will create space to talk about your past, and to allow for action in the present – while feeling the feelings that surface as we explore this – together – we actively work together to facilitate in-your-body interventions, exercises, and thoughtful action steps if that's what you're looking for as part of therapy.
Working together a wise act of self-care – to reach out for support when there's something you need help with. When it comes to your mental and emotional health – reaching out for professional support is an act of self-care to address the challenges you're facing.
love Kim, xo.
www.s3p.d51.myftpupload.com / [email protected]
In-person & Skype sessions are available for Individuals & Couples – to allow you to feel present in your body, to cultivate trust in your moment-to-moment experience and your naturally wise heart, and your capacity to connect to the love that surrounds us.
Re-Wild Your Life with An Embodied Study – A 3-Month 'In-Your Body' Rediscovery Program for Women – Travel deep within yourself. Rediscover your body's intelligence. Come back to your body – learn to be playful and creative again.
This program is for women who are ready for a deep dive– willing to commit, make time, and clear space for the deeply penetrating and likely life-changing process that somatic work and embodied study bring about.
This is an opportunity to explore the most significant aspects of yourself and your history–in ways not easily available to the thinking self, yet accessible through your body's awareness and inner senses, intuitive movement, mind-body dialogue, your unique creative and spiritual expression. In this program, we will engage the two interweaving pathways that comprise any authentic journey of transformation: the ascending pathway of realizing our true nature, and the descending pathway of integrating that nature into our down-on-the-ground human embodiment and human life. We will cultivate the subtle body, which is the bridge that allows our awake nature to come down to earth, and to manifest in our lives.
www.s3p.d51.myftpupload.com / [email protected]