What Are You Ready to Feel?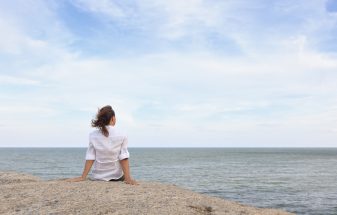 January 6, 2017
I used to block my feelings, until I was ready to feel.
I used to distract myself with work, exercise, and learning. At the time, I didn't realize that I was doing everything I could to avoid feeling the really hard feelings that I just couldn't bear to feel over the course of my life.
What happens in our lives is important, and even more so, how we are with ourselves when something emotionally painful or hard happens to us. Can we be with our emotional pain, or do we need to bury it within us because it just feels too difficult to feel?
Work, exercise, relationships, family, conflict, indecisiveness – all of these parts of our lives can be used to distract us from feeling and can leave us feeling numb and disconnected. When we are trying to get far away from what we fear and unending despair – we search for ways to numb us out from all this pain for a short while, only to amplify it in the end. It is a painful cycle.
Slowly, as I discovered how to meet in my heart everything that my distractions were trying to get away from – and slowly, the need to distract myself faded away and my body slowly begin to feel more grounded, solid and calm. I now meet my body, mind and heart with daily practices to remind myself how sacred my body and overall embodied well-being is for me and my life.
How did I unhook from distractions? 
Things began to change when I learned the power of turning my struggles over to something larger than myself – by asking questions without looking for an answer. In my despair, I began to ask myself – What am I ready to see and feel now?
It became clear to me that we are attempting to numb ourselves from the heartache of struggle. I began to understand that struggling did not mean that I was weak, it was my survival system that was trying to get rid of feelings that I didn't know how to be with, feelings were just too overwhelming to be with earlier in my life.
I also saw that my distractions and compulsions were on automatic pilot. Your compulsions are all about survival too. They will try to keep you balanced by pushing away feelings you have not yet learned how to be with in your heart.
Now that I have discovered how to be with the feelings, I no longer need distractions to calm and balance me. And as I meet my feelings by turning towards them, the urge to do anything else subsides.
It takes a while to discover the practice of turning towards yourself rather than away. But it is worth the effort. Turning towards my feelings has brought forth spaciousness, an open heart and a renewed joy of being alive.
My one-on-one work is focused on turning towards yourself, rather than away – please get in touch if you would like to practice this too.
love Kim, xo.
In-person & Skype sessions for Individuals & Couples – let's walk together – with our hearts open – with space for truth to rise.
Upcoming offerings include:
Writing from the Heart – A Wholehearted 4-Week Workshop – Writing experience is not required, this is time for you. We will dive deeply each week together, towards meeting your own heart, unlocking what your heart knows, understanding what your heart loves and what it is teaching you, and how to celebrate and speak from your own heart at every stage of life. We will walk away with deeper understanding of ourselves and how to enjoy our deepest experience. (Begins Wednesday, January 18th – 7pm to 9pm)
Healing Through the Body – Movement as Medicine Classes– A new experience for your body, mind & heart. A chance to practice a toolkit of body play that will deepen your experience of 'embodied presence'. Explore the smaller dance of our bodies through breath, movement, floor play, with doses of stretch and strength to balance your nervous system. This is time to let go of stress, to sink deeper into yourself and to take time for you. This approach heals trauma through the body, cultivates long-term vitality and strength, deeper connection to self, and the possibility of freer movement. (Begins Monday, January 23rd – 7:30pm to 8:30pm for 10 sessions)
www.s3p.d51.myftpupload.com / [email protected]
Come Back to Your Body, Mind & Heart with The Embodied Well-Being Program – A 3-Month 'In-Your Body' Rediscovery Practice for Women – Travel deep within yourself. Rediscover your ALIVENESS.
This program is for women who are ready for a deep dive– willing to commit, make time, and clear space for the deeply penetrating and likely life-changing process that somatic work and embodied practice bring about.
The Embodied Well-Being Program draws on a diverse, integrated combination of In-Your-Body process and study in the areas of embodiment (living from the truth held in your body), Integrative Body Psychotherapy, movement, somatic psychology, embodied mindfulness, energy work, clarity breath work, Body-Mind Centering, dream work and holistic self-inquiry.
You will deeply understand that love is who you are. You will free stuck energy in your body, move beyond the repetitive patterns of your mind & body and set yourself free.
You will feel radiantly alive.
This is a deep, transformational, one-on-one program – created to help you know the love that exists within you – become empowered and clear space within yourself to grow, blossom and transform – within yourself, in your love relationships, work and family life.
Your life is now.
www.s3p.d51.myftpupload.com / [email protected]