The Deep Somatic Roots of the Healing Ground – Cultivate a Safe, Nurturing Relationship with Yourself & Your Body – Untangle Protective Holding Patterns Held in Your Body, Your Life and in Your Relationships – The Hidden Early Developmental Trauma Patterning That Disconnects Us from Our Deepest, Truest Self.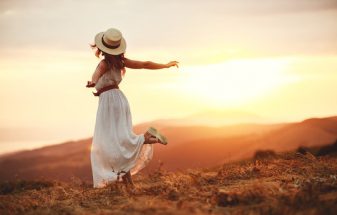 June 1, 2022
"The discovery that peace, happiness and love are ever-present within our own being, and completely available at every moment of experience, under all conditions, is the most important discovery that anyone can make." ~Rupert Spira
At its core and in its natural state, life is simple—now in this moment, and always. During trauma healing work, we can soften our grip on our judgement towards ourselves (and others), the stories we tell ourselves, so we can feel more spacious and free inside of our bodies, release long-held, hidden trauma, anxiety and depression patterns and liberate ourselves from chronic stress patterns and emotional distress.
Slowly, softly and from the heart – let's begin:
What do you notice in your body?
Are you feeling heavy, buzzy, frustrated, hungry, sad, lonely, overwhelmed, overworked, in grief or in fear?
What does your body want you to know?
How do you know? Attend to yourself with deep care in this moment.
What do you notice?
Let's be with what you notice – together. Give your body space and time to notice and feel what it is experiencing – creating new pathways for energy to move and flow.
Our bodies need deep care, and hidden early trauma may have shut down our ability to be in touch with the language of our bodies. Or we can feel so much anxious energy moving inside of our bodies, that we can't feel anything but feelings of overwhelm and chaos deep inside.
During our work together, I invite you to pay attention to your body – heal trauma patterns as a pathway to a safe relationship with yourself, so you can experience greater resilience, flexibility, and vitality. Let's tap in to the energy patterns of all parts of your body, become deeply aware, notice sensations, feel emotions, and shift tension patterns to allow more energy to flow. By learning to pay attention to your own root patterns, you can enhance and ease the flow of energy moving through your body.
This work is a combination of trauma healing, healing from chronic stress patterns held in the body, post-traumatic growth through the lens of nervous system science and the polyvagal theory, somatic awareness – opening to the invitation to movement and flow through the body, release  fascia patterns and somatic nondual awareness practices. This is a deep combination of bodywork and somatic psychotherapy practices, relational and intergenerational trauma healing at the roots of emotional and physical patterns and pain.
Be gentle with yourself. You are precious. Speak to yourself softly with compassion, care and acceptance. Remind yourself that you are doing your absolute best with the level of consciousness, wisdom, knowing, and capacity you have access to in any given moment. And so is everyone else.
We hold our life challenges in every cell of our body. If we choose to, we can see all of our challenges as doorways to awakening and greater freedom. They invite us to go deeper and expand our understanding of our selves and our life. From this place, it is possible to fully release hidden trauma conditioned patterns and deep beliefs that cause emotional and physical suffering. Awakening to our true nature provides the most direct and lasting way to be free from the issues that limit our potential and happiness. This brings an infinite wisdom, love, clarity and compassion to the therapy and makes true transformation possible. My work is experiential and addresses issues and long-held concerns at the root. This is possible for all those who are ready to move beyond the conditioned mind structure into the freedom of our essential nature.
I work with each person from a whole person perspective – this is Whole Body Mental Health – with a focus on the whole self, allowing a deeper wisdom to guide me to what works best in each moment. In addition to offering the deep presence and nurturing awareness as the primary agent of change, I utilize methods such as Co-Regulating Touch Bodywork for Trauma, NeuroAffective Touch, Somatic Experiencing (SE), Transforming the Experience Based Brain for Somatic Resilience and Nervous System Regulation, Healing Ground Realization Process –  to assist with releasing protective trauma patterns and resolving many other issues such as depression, anxiety, addictions, eating disorders, relationship and attachment issues.
When a child's core needs aren't met, they innocently conclude that there must be something wrong with them. By making themselves bad, they retain the hope that if they can fix and change themselves then maybe their environment will meet their needs.
A child can't hold both their love and their anger towards their caregivers – they simply don't have the capacity to hold both. Furthermore, the risk of expressing their protest – at not having certain needs met – is too great, for it ultimately threatens their connection to love itself.
Therefore, a child has no choice but to split off their anger and turn it towards the self as shame, and it's from this sense of deficiency that the need for perfection can begin to sprout.
There's a deep invitation to address what underlies this need to project our inherent goodness outside of ourselves. To address the pervasive tendency to reject, berate, belittle, and attack oneself. A tendency that often goes unseen.
When we acknowledge the failure of our environment to meet our early developmental needs, we inevitably touch the anger we exiled.
When we acknowledge this anger, we dismantle the tendency to turn it towards our self, and when we honor the healthy protest that lives at the heart of this anger, we fuse the split between good and bad, light and shadow.
It's in this fusion that we uncover the love that's not dependent on another. It's in this psychological maturation that we discover the wholeness that lives within, and we can end the war with ourselves.
As children, we learned to brace against feeling difficult feelings and become hypervigilant towards anything that threatened our physical and physiological safety. Unconsciously, we were trying to keep ourselves safe; and in so doing, many of us were not free to express our deep, true selves and our voice – freely and authentically – and became disconnected from our deepest selves.
We all want to feel grounded, resilient and in the flow of life. Deep somatic Transforming Touch healing bodywork from trauma can support you to experience yourself as ongoing, undivided internal wholeness – allowing us to feel more of what is happening in our bodies – both difficult feelings and good feelings and everything in between – with less overwhelm and fear. We can encompass the depth, intensity and free flow of our perceptions, thoughts, emotions.
The presence of awakened, compassionate, non-dual awareness is the true agent of change. When therapy takes place in the field of this presence, there is a deep safety that gently points each person beyond their conditioned patterns and into the same presence within themselves. Deepening our awareness of the sensations in our bodies, allows us to slow down and accept ourselves in all of our humanness.
Feeling fear is a part of the healing process and can be softened with our own understanding of it and by practicing compassion towards ourselves. 

Release protective holding patterns held in the core of your body – release and untangle holding patterns in relation to your mother and father.
Come back to your body and notice what it needs, even when you don't know what that is in each moment, just the action of attuning to what you notice and attending to it, is what is most important.
You begin to experience a state of being that is embodied, visceral, grounded, open, and always in process, and you begin to feel like this is your home.
You begin to realize that there's a much bigger range of emotional and perceptual information coming to you than you've ever been aware of before.
You begin to sense into the limitless terrain of your physical being – the endless, open spaces we can enter through the body. Now you can have a context within which you can actually experience the energy of your body – and the tremendous inspiration that arises for life, without the mediation of your ego.

Wise Ways to Be with Early Trauma Patterns
Together, we can recognize and care for the tender and young parts of ourselves that still live in us and are the fuel behind our struggles in everyday life. In a supportive field of loving connection, we'll bring attention to the places in us that feel unsafe, unseen, and disconnected. And we'll practice skills and wisdom-based tools to care for the fear and feelings of inadequacy that drive these stressful energies. We'll discover the possibility of relaxing our nervous systems and expanding into the spacious openness of the present moment.
We create a field of safe space to explore these tender parts of ourselves. As we discover we can meet them with deep acceptance and care, we have space to realize there is so much more to life.
The heart essence of all true healing involves being present with, and allowing, what is. Yet, there are many life challenges that can interfere with our ability to be present with what is, such as: emotional wounding, hidden trauma and the symptoms we feel, physical pain and discomfort due to chronic illness, relational disturbance and conflict, negative beliefs about ourselves, others, life itself.
You will have the opportunity to work with these challenges in your body-mind so you can develop more capacity to be present with what is and find true healing and awakening.
This is a combination of therapeutic support, body-focused work, as well as a focus on connecting to nature, the earth, the healing feminine and all there is. We will focus on:
Body:   Regulating and balancing body physiology
Emotions:  Increasing our capacity to be with emotions
Mind:  Being with and releasing traumatic memories and beliefs
Our work together will include:
Deepened recognition of your true nature through guided connection to the deepest parts of the core of your being.
Healing practices to untangle long-held mother/father wound patterning held in the body.
Pre & perinatal healing practices to provide a new experience of being birthed into the world.
Integenerational trauma healing – healing long-held energy from the past
Co-regulating touch bodywork for trauma – specialized touch and table work for healing early developmental trauma patterns held in the body.
Somatic practices to help regulate the nervous system and build resilience.
Psychotherapeutic processes for resolving the blocks to our full expression.
The presence of our own being is a powerful healing force. As we awaken to/as being and allow it to fully meet all our humanness as it is, we are healed and transformed from within.
You don't need to be concerned with changing who you are or figuring out how to solve all your problems. You can't erase your painful past. These goals will keep your mind busy forever and won't bring you the happiness you long for.
Right now in this moment, you can relax away from the stressful mind and lean into the open, loving space of being aware that is completely at ease with things as they are.
And this is what's true in any moment.
Slow down and recognize what is present for you.
Instead of feeding the story of lack and limitation for one more second, you become aware of the breath.
Instead of embellishing the drama of your emotions, you expand your attention to be aware of physical sensations appearing in your body.
Then letting go of the breath and physical sensations, you rest in presence, coming home to the peace of your true nature.
Conditioned programming recurs—that's its nature. It pulls you into ruminating about the past and worrying about what might come. When you enter the timeless now, and it's an all-encompassing, naturally welcoming field of presence that holds everything with love.
Working with themes such as early development trauma, medical trauma and chronic pain, and examining how our bodies have constricted over time to help us survive. Although once effective in our survival, they are no longer required to constrict us. Using somatic practices, release techniques and embodiment attunement exercises to reduce body constrictions and enhance one's vitality and restore resilience and well-being.
Experience yourself living and being in an unrestricted body. Soften years of holding, gripping and straining melt away. Take us on this journey inward through Awareness, Physical Sensation and Emotion, allowing us to fully embody ourselves in an entirely new way. As she said during our last session….."it's like remembering to come back to our wholeness – that part that has never been fragmented.
Together, we will recognize and care for the tender and young parts of ourselves that still live in us and are the fuel behind our struggles in everyday life. In a supportive field of loving connection, we'll bring attention to the places in us that feel unsafe, unseen, and disconnected. And we'll practice skills and wisdom-based tools to care for the fear and feelings of inadequacy that drive these stressful energies. We'll discover the possibility of relaxing our nervous systems and expanding into the spacious openness of the present moment.
Here, finally we're available to peace, freedom, intimacy, and inspiration.
Together, we create a field of safe space to explore these tender parts of ourselves. As we discover we can meet them with deep acceptance and care, we have space to realize there is so much more to life.
Over and over, we're guided to be grounded in present moment awareness and live it in all areas of our lives.

We will focus on a wide variety of areas of concern that you may have:
Family of Origin Relational & Ancestral Healing – Understand the effect of your early childhood or adverse childhood experiences on your emotional & physical health now
Somatic Deep Body Healing – Reprocessing deeply held traumare within your brain and nervous system
Attachment Healing – Rewire early attachment and familial patterns – Mother & Father Wounding
Birth Trauma & Early Developmental Trauma Healing – Learn about your HPA axis, levels of cortisol and adrenaline and how these may be adversely be effecting you
Embodied Recovery – Understand your somatic narrative and cultivate resiliency as a felt sense in your body
Embodied Movement – Understand how movement, flow and sound can help you move through deeply held emotion
Become aware of how stress feels in your body
Facilitate emotional processing of deeply held or stuck emotion
Process long-held anger, grief & loss
Reduce feelings of anxiety, depression and overwhelm

Integrate gut felt sense with cognition
Work with and know your own needs and self care
Become aware of stress activation patterns
Work with communication, energy, movement, boundaries & limits
I support individuals and couples to uncover the root cause of the emotional and physical symptoms that they are experiencing. Our symptoms can be indications that our bodies and lifestyles are out of balance.  With a special interest in chronic stress, chronic pain, ongoing chronic women's health concerns, including eating disorders, cycles of anxiety, overwhelm and and hormonal health – from PMS and fertility to menopause, and digestive issues.
If you find yourself repeating painful patterns in your relationships – and/or are you often feeling frustrated, overwhelmed or anxious?
Perhaps you're ready to stop avoiding, numbing, fighting, running or dissociating from the pain? I can support you to heal long-held trauma that shows up as working too much, eating disorders, addition to drugs and alcohol, chronic stress, pain and illness.
I support people to connect to their core self: This alone can begin to restore what was lost through developmental trauma and life's circumstances. We each have within us everything we need to recover from what happened to us, or what should've happened that did not.
I am deeply devoted to supporting others to remember the innate deep wisdom of their hearts as part of my journey.
Be ever so gentle with your heart.