Let Go. Allow Yourself to Receive.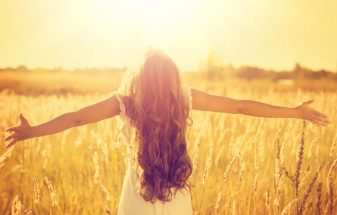 March 10, 2015
You can't become yourself, by yourself.
Are you living someone else's version of the way life should be?
Are you full of should's, would's and could's in your life?
Is everyone around you telling you that you should be happy – but you're not.
Trust that.
The voice within that's telling you to remember who you are.
The voice that tells you not to settle for what made you happy in the past, and allow yourself to grow and receive.
You must learn how to trust. In your dreams, and your desires.
Begin to know what makes you come alive.
Truly. Madly. Deeply.
That's who you are.
What feels juicy and exciting?
Move towards and create your own vision of success, rather than following a vision that no longer fits you.
A vision where your outer world mirrors the inner possibilities that you feel on the inside of yourself.
The whisperings that you hear within and then ignore or that you don't trust or pay attention to, because it feels like too much or work, or it's taking too long.
Maybe you feel that you don't have the experience, or the money, or that it's too risky, and that you don't know how to live a life based on your gifts, goals and dreams, instead of someone else's version of these things.
Create your meaningful, passionate, purposeful life.
Create relationships that match and mirror who you truly are and what you value.
Create a richly rewarding personal life and a sense of belonging.
Live your deepest possibility – that you can sense inside of you, but don't yet know how to live.
If you feel powerless to get what's inside of you out into the world – I will share with you what I've learned about living a life of your dreams  – you can't become yourself, by yourself  – you MUST give yourself the gift of continued support and get on the path of truly believing in yourself.
We need the partnership of others to truly thrive.
We also need to develop and cultivate faith in ourselves – and allow ourselves to be truly supported in this new way of living.
If we don't trust ourselves, and don't believe in all that we are, then we definitely can't create a new way of being on our own.
I want to support you and let you know that:
All of life is organized around your success – and life is on your side.
You must absolutely believe that life is organizing around your success – and have the courage to tap in to and listen to the inner knowing that exists within you.
At the core of this process is cultivating trust & gratitude within yourself – that there's great energy organizing around your success and when you're ready, you must take a leap and trust it.
You are so deeply loved and supported by the universe – there's a sense of complete fullness and wholeness.
Together, you will feel truly supported, maybe for the first time, you will be seen for the depth and beauty that you are and you will begin to trust yourself deeply and know that life is organizing around your success – and the way in is to reach out to others for support.
You must no longer go it alone.
Are you following someone else's idea of how life should be – instead of doing what you know deep down that you want to be doing?
Learn to tap into your deepest self and TRUST.
Enjoy. Your. Life.
While you're alive – LIVE fully!
Live the life that you've dreamed and imagined.
I will support you along the way.
Work with me if you want to:
– Heal the emotional pain that you keep pushing down because you don't know how to cope with it – so you can flourish in your life without that pain affecting your life and relationships.
– Give yourself the space and time to know and be with who you really are, maybe for the first time – begin to love that person and create new patterns that will begin to support yourself towards a new way of living your life.
– Heal your primary relationship patterns and struggles – attract new people into your life and begin to understand the true purpose of relationships.
– Overcome your fears so that you can come out of hiding and shine your light.
– Allow yourself to receive support and understanding and begin to know and trust in yourself in ways you haven't before.
– Understand yourself in relationship with others – your primary relationships, your friendships, your bosses – understand and heal beyond the patterns that keep plaguing your relationships and create a new, healthy path.
In peace, love, and joy.
Let's talk about you – 647 222-3086
www.s3p.d51.myftpupload.com