Living with Ease.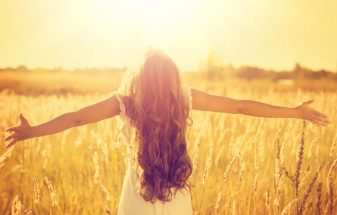 April 3, 2016
Whatever happens, I'm ok with it.
It's true.
I know that when I'm focusing on the present moment, not on the past or the future, that everything is unfolding as it should.
Sometimes, what seems like a setback, is actually pointing you towards another path that is better suited for you.
I know that when I take steps towards something that I desire for myself and my life, that I will often be met with fear – fear that I can't do it, that I will fail or that it won't work out. I bring self-love, compassion, presence, softness, and peace to each moment, and when I do, my fears get quiet.
Some years ago, I decided to learn about the unhealthy patterns that were ruling my life, and instead of putting a band-aid on them, I wanted to slow down, and take the time I needed to truly heal them and myself.
I didn't realize it at the time, but I wanted to find lasting fulfillment, ease and joy.
I didn't want a quick fix – a book or another course.
I didn't want to push, strive, overthink, stress or struggle.
I wanted to find a way towards a way to live with ease every single day – from my feminine energy and heart, to make my deepest dreams come true – in my work, relationships and all aspects of my life.
Over 5 years, I did the work – I lowered my emotional defenses and surrendered to a process of undoing. Undoing in a good way. Undoing all the conditioned patterns that I was living from my family, social roles and society, and learned to live into what was true about me from the deepest place inside of me.
I questioned everything. My heart was open. I allowed myself to feel, let go and dive deeply into my soul.
I swam into the depths of my soul and I was witnessed – truly seen for the beauty of who I was – who we all are.
It was not always easy, but I can't imagine my life now without having undergone that process.
I am free.
The best part of that emotional freedom is that I help others find their emotional freedom, every single day.
What a gift. I'm very grateful.
I can't think of anything else I would rather be doing than shining a light into the darkness inside of others, and helping them see their own beauty and light.
Add in embodied mindfulness, movement, breath, dance, meditation, creativity, yoga therapy, writing, expressive arts, circle work, authentic communication, and you've got the recipe for a beautiful, heart-filled community and life.
My dream.
Join me.
Let's shine a light on your dream – and what makes you shimmer and sparkle.
Remove of the barriers, stuckness, uncertainty, self-doubt, lack of energy, and negativity.
I know how to take away everything that keeps you from feeling ease and joy.
I'll leave a trail of bread crumbs that help you move towards more ease and less struggle.
Or you can just email me instead. ; )
Sessions (in-person or via Skype) are helpful for individuals and couples – to uncover and guide you towards the love within yourself, where you will find more ease and less struggle. We will identify the repetitive patterns, deep fears, unspoken truths, and defense mechanisms, as well as notice what is going well now. With time, patience and attention, you will open to new and unexplored ways of being and responding.
[email protected]
www.s3p.d51.myftpupload.com
One-on-One and Community Offerings Just for You:
One-on-One Embodied Mindfulness Sessions – Heal chronic pain, sleeplessness, release chronic stress patterns, eating disorders, anxiety & depression.
You're Invited…
6-Week SPRING Embodied Mindful Awareness Group
Monday evenings beginning April 25th, 2016 – 7pm to 8:30pm
When you feel disconnected from your body, emotions and within your life – you may be ready to make changes to allow more ease into your life. Take time to connect to yourself and regain clarity within your mind, heart and spirit.
During this practice you will take time to: rest in the stillness of the present moment, reunite mind-body connection, release mental and emotional tension, connect to your inner wisdom to make decisions that align with your authentic truth, release attachments to stories that limit your growth, cultivate patience, presence and ease in your work and relationships.
Create new beliefs about yourself. When you are with what's happening now, you aren't thinking about the past or future, worrying, feeling stressed or in pain. You can expect simple, effective mind-body practices and movement to free yourself of feelings of anxiousness, chronic pain, worry, stress, and depression.

I'll save a space for you.