Letting Go, Feeling Held & Being with Trauma – Somatic Practice for Being with Distraction, Denial, Resistance & Overwhelm.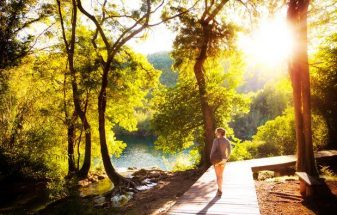 June 26, 2019
Gravitate toward all that feels supportive. Inspiring. Expansive. Warm. Frequent those spaces until it's so habitual you will not want anything less. You are made for this sensation of belonging, pleasure and joy. Take it all in.
Take a moment now to notice the sensations in your body – is there tightness in your shoulders or a knot in your stomach? Notice the quality of your breath – we are all holding on on the inside, a lot.
We have been conditioned to be in a chronic stress response – to strive – to do – to be – causing a lot of trying, judging, comparing and wishing things were better or different than what they are. This causes chronic tightness in your mind, your body and your heart.
I invite you into another way of being – to slow down and notice – now – to allow the tightness to soften. In time, you may begin to notice a spaciousness that comes when you soften chronic holding patterns inside of you.
You might also have discovered a resistance inside of you to even slow down and breathe. We are all fearful of slowing down because the last time we were very open to life – when we were small children – we felt afraid of our feelings and we've been holding on tightly on the inside of us ever since.
When fear and tightness comes, use it as a reminder to soften and let go into this moment. We are no longer small children and we can learn to trust ourselves – and letting go can be safe, warm and grounding.
You are always being supported by life. Our early developmental and trauma experiences have made us feel that it's not safe to rest and be. It is safe to rest into life – your body is holding on to conditioned, reflexive, threat responses that keep reverberating in your nervous system – and it can feel scary to consider letting go and trusting life again.
When your mind tells you – I must be in control – I'm afraid of the unknown – this is an attempt to control life that keeps us caught in the prison of chronic patterns in our bodies and minds.
You can begin any time – begin now by softening your belly and shoulders. You can practice and learn to rest deeply into wherever you rest so that you become open to being held rather than just lying on top of your bed or couch.

Don't ignore your feelings, emotions or bodily sensations – they are signals to understand and to make sense of.

When you live fully awake in your body, you are open to an inner guidance that only comes through the body: a felt sense, an inner understanding, a direct connection to your body's wisdom. And it makes life so more rich and full.  

Healing trauma opens us into a path of deep healing of the body, mind and heart. As a way of surviving experiences of trauma, people can feel stuck in old parts of themselves that are frozen in time. These survival parts of us touch every aspect of our life and shape our capacity to show up in the world and in our intimate relationships.

Through body-focused somatic healing, our survival parts begin to feel what it is like to be held in a safe container, and to experience warmth and settling in new ways. Slowly, our bodies can experience something different and we can reconnect to the part of us that is able to feel safe.

This healing touches every part of our life, transforming our capacity to cultivate healthy relationships, to experience less anxiety and transform chronic stress, body and pain patterns. Beneath our survival energy that has been stuck from earlier experiences in our life – exists our life force – true joy and aliveness.

The greatest gift we can ever give to ourselves is to come back home to ourselves – to come back to our body and heart.
This year, I've been diving deeply into the transformative study and practice of Somatic Experiencing (SE) and somatic touch training which has continued to deepen and expand my ability to be with all of those that I have the honour of accompanying on their healing journey.

I welcome the opportunity to support you and to transform suffering into peace, joy, and contentment. It's time.
Are you living as deeply and fully as you would like to?
Do you want to discover the roots of chronic emotional and health concerns?
Do you bring yourself fully and authentically to your relationships?
Is your work life in alignment with your inner sense of purpose?
I have some space in my practice for a few new clients. I'd love to get to know you – to slow down – to focus on your body, your mind, your symptoms and the courage it takes to move through shame and fear.
I look forward to being with you.
with love from my heart, Kim xoxoxo
[email protected] / www.s3p.d51.myftpupload.com
Deep healing at the level of the nervous system enables you to explore and expand your inner landscape where self – confidence and inner agency reside. When you heal your nervous system, you can more readily access deeper ways of knowing and being that include intuition, imagination, sensuality, and the subtle body of emotions. Get in touch to learn more about working with me – [email protected]
NEW Offering – Cultivate Your Somatic Aliveness – a 3-Month Online Program – access deeply held emotional, physical and relational concerns and focus deeply on you during this program. Starting with a one-hour introductory session, then a 1.5 hour family systems trauma session – to access and heal the roots of inherited family trauma that you are carrying with you and how it affects your health, relationships and work in the present day – then an additional 6 online sessions to help you access deeply held body holding patterns, somatic trauma and emotional patterns and integrating unconscious blocks to help you access your internal, somatic freedom. A total of 6 one-hour sessions, on Skype or Zoom, one 1.5 hour family trauma healing session, and homework to help access internal transformation from anxiety, depression, panic, trauma, stress, eating disorders, relational struggles, chronic illness or health concerns – get in touch to learn more – [email protected]
Other Offerings – Family Systems Imprint – 90-minute Session – an in-person or virtual online Zoom session – an opportunity to get to the roots of intergenerational trauma patterns & begin a path towards relational & relationship healing. Uncover your family dynamics and trauma history – this is an opportunity to strengthen your internal relationship with your mother, father and extended family – in ways that contribute to healing – get in touch to schedule an online or in-person session – [email protected] / www.s3p.d51.myftpupload.com

Sessions for Individuals & Couples – an invitation for you – to feel present in your body, to unwind patterns of anxiety, depression, anger, hopelessness, chronic stress & pain, trauma, regulate your nervous system, to cultivate trust in your moment-to-moment experience, your naturally wise heart, and your capacity to connect to yourself, those you love and the love that surrounds us.
Somatic Body Learning & Practice and Somatic Experiencing Trauma Touch sessions are available for you now. Waking you up to the innate wisdom of your body, healing inherited trauma patterns, feeling yourself below the level of thought, and accessing your full beingness in flowing, fluid motion.

Get in touch to learn more about Family Systems Imprint Sessions & Individual Body-Focused Therapy Sessions, and Trauma Touch work in The Somatic Sanctuary – The Anxiety, Stress & Trauma Restorative Clinic – in-person, online or a mix of the two – and to set up a time to work together: [email protected]
The Anxiety, Stress & Trauma Restorative Clinic:
Creating Well-Being Through Nervous System Regulation.
Heal Relational Trauma – Break the Cycle of Inherited Family Trauma.
Nurturing Connection, Restoration & Building Resilience.
Easing the Body ~ Calming the Mind ~ Opening the Heart.
Somatic Experiencing ~ Somatic Practices ~ Trauma Touch ~ Movement.

Virtual, online sessions are available for those who travel regularly, have a busy schedule, live far away from the office, or prefer to work from your own home – [email protected]
Working together enables everyone who is willing to do the work an opportunity to decrease feelings of anxiety, pain, depression, chronic stress, pain or illness – as well decrease the chatter in the mind, and ground your mind and body with the depth of the intelligence found in the body. Experience lasting somatic transformation and feelings of calm, peace and wholeness – within your own body and within your relationships.
"Between the head and feet of any given person is a billion miles of unexplored wilderness." ~ Gabrielle Roth. This is the work we do – we explore your inner wilderness – together.
livingembodied.ca / [email protected]