Let Go of Resistance & Allow Your Energy to Flow.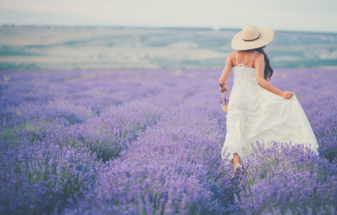 February 29, 2016
How energy moves through you has a major impact on your life.
If you exert your will against something that has already happened it's like trying to stop ripples caused by a stone being thrown into the water. Anything you do causes more disturbance not less.
When you resist, your energy has no place to go. It gets stuck within you and has no place to go.
Your heart's energy flow gets blocked and causes you to feel closed and less vibrant. This is what is actually happening to you when something is weighing heavily on your mind or when things just feel too heavy for you in your life.
This happens to all of us at some point.
Something happens in our lives and we continue to hold the energy of that event inside of us by resisting what has happened before. That's because we haven't processed or healed the past energies, and when something new happens we find ourselves unprepared to deal with the new event or we don't feel capable of digesting it.
Over time, our energies build up to the point when a person is so blocked that they either blow up or shut down. This is what we experience when we feel completely stressed out or burned out completely.
It's important for us to understand that we can learn how NOT to be stressed out or shut down.
If we learn to allow each moment of each day pass through us, rather than building up inside of us, then we can learn to be stress-free every moment of our lives. It's our resistance to the events in our lives that causes this experience.
We can learn to stop resisting – and know that when we do, we are wasting our precious energy.
Begin by examining your process of resistance. In order to resist, you must first decide that something is not the way you would like it.
Ask yourself, why are you resisting this (event, situation, person)?
Something inside of you must have a basis for deciding when to simply let things pass through and when to assert willpower to either push something away or cling to it. This is because we don't all have the same preconceived notions of how things should be or how much they should matter to us.
If you want to understand your stress, begin by realizing that you carry around with you your own set of preconceived notions of how things should be. Based on these notions, you assert your will to resist what has already happened.
Where did you get those preconceived notions?
Personal events that happen in our lives, from childhood to present day, leave impressions in our minds and hearts.
Regardless of when they happened, they left impressions inside of you. Those impressions become the basis for asserting your will to either resist or cling – and based on those past impressions, you are resisting the current events in your life that are happening now.
This creates inner turmoil, tension, struggle and suffering.
Instead of seeing this and refusing to allow these past events to run your life, you buy into them. Believing they have real meaning, you put all your heart and soul into either resisting or clinging. In truth, this entire process has no real meaning. This just deeply affects your life.
A life-affirming option to this is to begin to use your life to let go of these old impressions and the stress they create. To do this, you must become very conscious. You have to become aware of and carefully watch the mental inner voice that tells you to resist something.
It commands you and says to you, I don't like this, fix it.
Your inner voice gives you advice and tells you to confront the world by resisting things.
Ask yourself – why are you listening to it?
Let your path become the willingness to let whatever happens make it through you, rather than carrying it to the next moment. Allow the energy of the present moment and what's happening there to move through you.
When we don't allow this to happen, we end up holding onto blocked energies from the past – and we don't come from a place of clarity, but from a place of inner resistance and tension.
Take a conscious step to learn how to bring acceptance, patience, openness and self-compassion, into your daily life.
Sessions are available in-person or by Skype – and can be very helpful for allowing you to let go, open your heart, access freedom in this moment, and live as love. Everything you need is already within you.
love Kim, xo.
www.s3p.d51.myftpupload.com
[email protected]
You're Invited…
6-Week SPRING Session of Embodied Mindfulness Meditation
Monday evenings beginning April 25th, 2016 – 7pm to 8:30pm
Do you feel disconnected from your body, emotions and within your life? Are you ready to make changes to allow more ease into your life? Take time to connect to yourself and regain clarity within your mind, heart and spirit.
During this practice you will take time to: rest in the stillness of the present moment, reunite mind-body connection, release mental and emotional tension, connect to your inner wisdom to make decisions that align with your authentic truth, release attachments to stories that limit your growth, cultivate patience, presence and ease in your work and relationships.
When you are with what's happening now, you aren't thinking about the past or future, worrying, feeling stressed or in pain. You can expect simple, effective mind-body practices and movement to free yourself of feelings of anxiousness, chronic pain, worry, stress, and depression.

I would love to see you there.
[email protected]