The Invisible Parts of Your Relationship.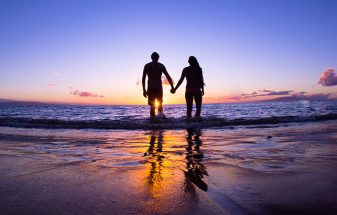 January 28, 2017
There's the relationship we are consciously aware of, and there's an invisible relationship – one that's rooted in our childhood primary relationships and happening now – in our unconscious reactions and interactions with our partner.
We must look to childhood experiences not only to find the origins of concerns in our adult relationships, but also to find what we most deeply need from a healthy relationship.
As children, we need two needs satisfied, 1) the sense of being connected to a parent or parent figure who completely understands and protects us, 2) a sense that our actions and achievements have been seen and appreciated.
These are self needs for idolizing and mirroring – and when these needs are not met in childhood, we continue to search for them to be met in our adult relationships.
We search for a partner who will understand us completely and with whom we can feel completely at one with. Also, we search for a partner who will notice and validate us, as well as take pleasure in our achievements. These are the some of the important ways that we form a bond with our partner.
Empathy is identifying with and understanding another's situation, feelings, and motives. Empathy is the ground from which a healthy self grows. A child who feels her parents can identify with her point of view and understand her feelings experiences two essential things – a sense that they are not alone in the universe, and that they are ultimately connected to others, and a sense that our thoughts and feelings are comprehensible to another.
We learn to trust our own thoughts and feelings, and to risk reaching out to others with our aliveness and creativity.
Empathy and kindness continue to be important ingredients in adult relationships. Virtually all problems in relationships that I see involve a breakdown of empathy, which leads to a disruption of the relationship tie.
Instead of criticizing and blaming – which is effectively telling your partner that you believe that there is something wrong with them, because they do things differently from you – couples can work on reestablishing and deepening empathy is the most important work a couple can do.
We want to feel understood and responded to – and to be validated for our experience of life.

In our relationships, we are regulating each other with unconscious mutual regulation. We are continually unconsciously responding to subtle cues that convey the other's needs for intimacy and separateness. We are always regulating ourselves within our day-to-day interactions with our partner.
Our complex emotional defenses keep us out of connection – we withdraw from relationships, when it feels to painful to stay and talk it through; we run away physically from a situation, so we won't have to deal with it face-to-face, and turn inward – against ourselves – when we believe any criticisms coming towards us and begin to believe we are worthless or not good enough, if we experience struggles in our relationships.
Coming from our real self is our creativity, and authentic feelings – when we feel seen and understood by another, when someone really knows where we're coming from, they are touching our real self.
The defensive self acts as a protective shell around the real self. No one knows why some children tend to flee from emotional pain, while others tend to fight or freeze and feel stuck. Most of us can identify that we have defensive strategies and our typical responses to emotional pain or stress.
Why do our defensive styles from childhood persist into our adult relationships?
Our unconscious mind works by matching patterns of behaviour and response. To the unconscious mind, all time is the present. The unconscious mind compares every new emotional experience to a pre-existing pattern of past disappointments and traumas.
Sometimes there really is a threat to our emotional world that requires the defensive self's protection. Within our relationships, we are unconsciously drawing on past difficult experiences, in our present interactions with our partners.
The things that push our buttons in our relationships, touch our core issues. They are wounds of abandonment, intrusion, or shame that the self carries into adulthood. In order to stop reacting defensively in your relationship, we must be able to understand our core issues that relate to our defensive reactions.
Relationships offer the best opportunity we have to change our defensive patterns and resolve our core issues. Our relationships bring these issues to the surface again, so instead of running from them, we can take time to slow down and understand them, in an empathic and compassionate environment.
Finding someone who will mirror and appreciate our individuality can undo a core issue of abandonment and help to heal a hurt self.
It is very possible to rebuild empathic connection and change your relationship, here are some ways to do so:
1) Communicate your authentic needs (come out of hiding and risk something new)
2) Change your part in your relationship's issues (move away from blame and accusations and into speaking your real feelings and truth)
3) Negotiate new agreements (becoming conscious and understanding that you don't need to protect yourself anymore)
4) Build forgiveness (much of how our partner reacts to us comes from our unconscious, so our partner can see us in ways that are distorted and irrational – forgiveness heals this)
I'll be writing in more about the specifics of how rebuilding empathic connection and changing your relationship, in my next blog post.
We're not meant to 'go it alone' – I'm committed to being with individuals and couples to help resolve emotional relationship distress before it takes up permanent residence in our bodies, minds, and hearts.
We are truly built for being in healthy relationships throughout our lives.
love Kim, xoxo.
Allow yourself to be seen. Make contact, and be open to kindness.
Share your vulnerability – reach out for love and assistance—and connect deeply to yourself and to others in your relationships.
get in touch – [email protected]
sign-up for a free embodiment download – www.s3p.d51.myftpupload.com