Freeing the Energy of Your Heart.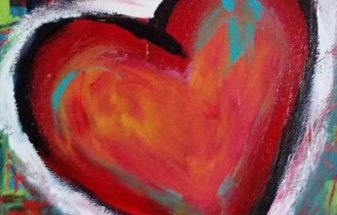 November 16, 2015
From the time you were very little, you had an open heart.
You were loved – and sometimes you were rejected, hurt and in pain.
Once the disturbed energy patterns of pain and hurt are stored in your heart, they become inactive.
You may feel that you have handled the hurtful situation and that you don't have any lingering issues with that experience. While it may seem like the hurt, pain and rejection is over and in the past, it's not really done yet.
Every painful incident that has not moved through you and processed, builds up to the point where very little energy can pass through.
Over time, your heart energy becomes blocked.
You may feel low, depressed. stuck, or have pain in your chest. Very little energy is coming through to your heart or your mind.
Everything begins to feel negative because the world of the senses must pass through this depressed energy before it gets to your consciousness.
Stored energy patterns in your heart are real.
Notice how, years in the future, something that hurt you in the past comes up again in your life and it can trigger you, make your heart beat faster and make you feel down or agitated, even though it happened 5, 10, 20 or 25 years ago.
No wonder you may feel so overwhelmed or want to withdraw from people at times. The stored heart energy from the past, interacts with what's happening in your life in this present moment.
Past impressions do get stimulated and they affect the flow of your life. Sensory input from today's events mix with all the stuff you've stored through the years, and the past patterns kick in once again.
The good news is that much of what you take in does pass through you.
Two kinds of experiences can block our heart – we cling to the positive experiences and feel sad when those shift or change – or we push energies away because we feel bothered or agitated.
In both cases, we are not letting the energies pass through us, and we're wasting precious energy by blocking the flow through resisting or clinging.
The alternative is to enjoy life without clinging to it or pushing it away.
If you can live this way, each moment will change you.
If you begin to truly experience life, instead of fighting with it or wanting it to be different, you will be moved to the depth of your being.
You will live a life of true adventure, just for you.
Your heart is a place where energy flows to sustain you.
The energy inspires and raises you, and it's the strength that carries you through life – a beautiful experience of love that flows through your whole being.
The highest state you've ever experienced is the result of how open you were at that time – if you don't close your heart, you can feel this way all the time.
Allow your experiences to come in and pass through your being.
If old energies come up because you haven't processed them yet, practicing letting them go now.
Open, relax your heart, forgive, laugh, jump for joy.
Just don't push it back down. It hurts when it comes up because it was stored with pain.
Now, you are aware and you can choose, you can continue to walk around with stored pain blocking your heart and limiting your life, or you can be willing to practice letting your pain go when it comes up and gets stimulated.
It only hurts for a while, then it's over.
Your reward is an open heart. You live in love and this love frees and strengthens you.
And you make it a practice of letting go of anger and fear.
Allow yourself to experience all the feelings of your heart, letting go of the ones that no longer serve you.
Begin to imagine the highest emotional, energetic state you can imagine and don't take your mind and heart off this dream.
If you struggle, you can try again tomorrow.
The fact that you are open to freeing the energy flow of your heart means that you are awesome.
Just keep letting go.
Practice letting go with – embodied mindfulness sessions, mindful movement classes, clarity breath work, and individual sessions for clarity, freedom and peace in your heart.
with love, xo
[email protected]
www.s3p.d51.myftpupload.com