Have You Abandoned Yourself? Lean into Loving Yourself First.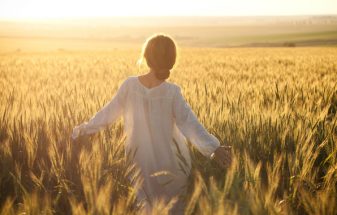 April 21, 2016
"As I get quiet and look inward, I discover pieces of myself that I don't need to turn away from – I can grow to accept, treasure and love, all parts of myself, and finally feel whole." 
Have you abandoned yourself for the sake of another?
Often we live in reaction to someone else and believe that it's love. But only you can give yourself the love you most desire, thus enabling you to truly love others. 
We can feel overcome with emotional pain and stuck in our patterns of isolation and unworthiness that have taken root in the past, and keep coming up again and again.
When we feel these feelings so often, we begin to believe they are true. We believe that we're unworthy of love and need to 'give ourselves away' in order to have love in our lives.
You don't have to do anything to be worthy. You being born is a testament to your worth.
You don't have to do anything to claim your worth. You are simply – worthy.
You don't need to be perfect to be loved. In fact, you don't have to DO anything to be loved.
You don't have to earn love, you are love.
Consider that for a moment.
We're constantly looking outside of ourselves for fulfillment, clarity and answers. When we consider going within ourselves – it can feel scary.
We blame ourselves when things don't go well for us.
We can be mean to ourselves and we don't trust ourselves.
We learn that any problems we have or mistakes we make are evidence that we aren't good enough.
We abandon ourselves deep inside, at the moment when we need to learn to love ourselves most.
We spend too much time in our heads. Many of us have a really difficult time making choices.
We spend more time thinking about change than actually making it.
We spend more time focusing on our problems instead of living in our truth. We don't know what our truth is. We don't know how to access it.
The truth is that all of the answers you need are within you. You just have to get to them.
It's possible, and when you do, life is so much brighter.
A lot of the work is about learning to let go, learning to release the mind, to open your spirit, and to let your heart be big and bold and bright.
There's a reason for this lack of self-love.
We learned to abandon ourselves when we were children, when we felt that we did something wrong or got into trouble. We beat ourselves up inside if things don't go the way we planned – and we don't get an opportunity to see our lives through the lens of love.
I can help you with that.
If you're interested in opening your heart and finding the love for yourself that feels missing – I'd love to work with you.
Feel your way, and love yourself through uncertainty, emotional pain & not-knowing.
Practice quieting your mind, making peace with your body and enjoying your relationships of all kinds.
Sessions for individuals and couples are available in-person or by Skype – and can be very helpful for allowing you to practice mindful awareness, develop new understanding, let go, open your heart, access freedom, and live as love in this moment. Everything you need is already within you. Let's open the door.
love Kim, xo.
www.s3p.d51.myftpupload.com
[email protected]